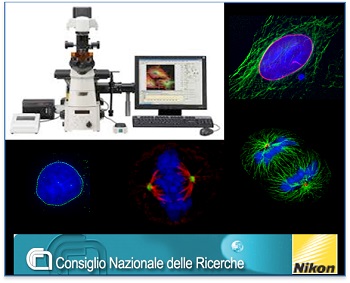 Lia Asteriti
,
Francesca Degrassi
, 
Giulia Guarguaglini
, 
Patrizia Lavia

The imaging platform is a Nikon Microscopy Reference Center for Central-Southern Italy.

It hosts a wide-field light microscopy equipment for high-resolution analyses and will soon expand its applications by acquiring a last generation spinning disk confocal microscope; both instruments are equipped for live imaging experiments. The platform also includes an up-right microscope delivering crisp, clean and true-to-life images of fixed fluorescent cell samples and two image analysis workstations. Imaging capabilities include: time-lapse recording of live cells over several days; detecting intracellular molecular interactions; reconstructing cellular and subcellular structures at 3D level obtaining quantitative information on the molecules or cells that are being imaged. Imaging methods are developed in collaboration with Nikon, e.g. for automated image acquisition and analysis.
For more information visit the imaging platform webpage

(https://www.imagingplatformibpmcnr.it/).