2021 Adolf Struempell Prize
To Francesca Sardina
For the paper "Spastin recovery in hereditary spastic paraplegia by preventing neddylation-dependent degradation," Life Sci Alliance. 2020 Oct 26; 3 (12): e202000799 doi: 10.26508 / lsa.202000799"
https://www.hsp-info.de/en/news/news.html?tx_news_pi1%5Bnews%5D=605&tx_news_pi1%5Bcontroller%5D=News&tx_news_pi1%5Baction%5D=detail&cHash=10789b3cdd942adb327338b68800a96e


---
SEPTEMBER 2021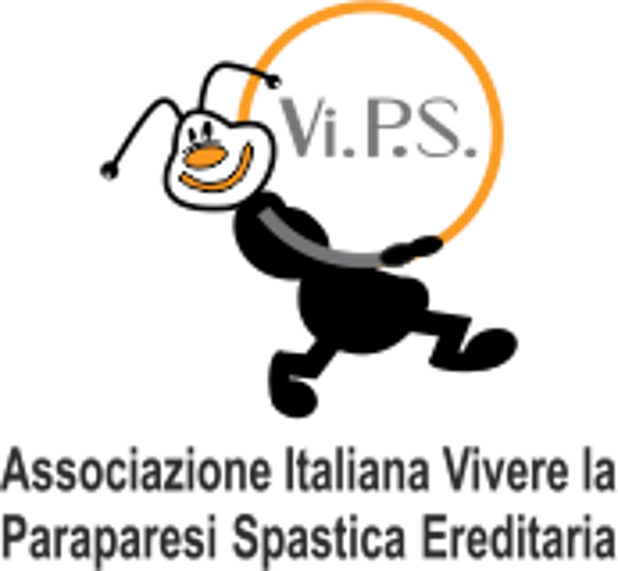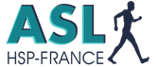 2021 Research Award  from the AiViPS ETS e ASL HSP France
To Francesca Sardina
For the project "Microtubule cytoskeleton organization as biomarker to develop new therapeutic perspectives for Hereditary Spastic Paraplegia type 4 (HSP-SPG4)"
https://www.aivips.it/news/news/197-progetto-di-ricerca-condiviso-italia-francia-su-spg4

---
---

SEPTEMBER 2021



2021 Post-doctoral fellowship from the AFM-Telethon 
To Francesca Sardina
For the project "Phenotipic evaluation of microtubules network as prognostic and predictive marker in response to spastin elevating approaches in Hereditary Spastic Paraplegia type 4"
http://www.afm-telethon.com/research/calls-for-proposals/current-calls-for-proposals.html


---

2021 Post-doctoral fellowship from the AFM-Telethon 
To Valeria Bianconi
For the project "Deciphering the role of Prdm16-mediated H3K9 methylation in the control of Fibro-Adipogenic Progenitors identity and skeletal muscle repair"
http://www.afm-telethon.com/research/calls-for-proposals/current-calls-for-proposals.html
---
SEPTEMBER 2021



AFM-TELETHON
To Elisabetta Falvo
For the project "Personalized non-invasive nanotherapy of Crouzon syndrome through FGFR2 gene knock-down by recombinant human ferritin-based targeted siRNA delivery"
http://www.afm-telethon.com/research/calls-for-proposals/current-calls-for-proposals.html
---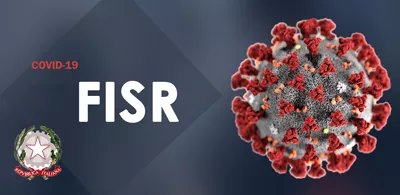 FISR 2020 COVID
---

MAY 2020: PRESTIGIOUS RESEARCH AWARDS TO IBPM RESEARCHERS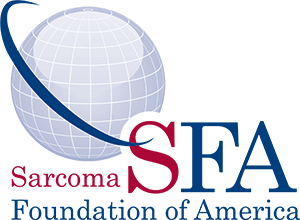 Race to Cure Sarcoma Research Award
To 
Chiara Mozzetta
For the project "Unwinding new therapeutic opportunities in rhabdomyosarcoma: the role of RNA helicase DDX5"
https://www.curesarcoma.org/sfa-announces-2020-research-grant-awards/

2020 Research Award  from the Italian National Association for Atassia Telangectasia
To 
Venturina Stagni
For the project "Targeting autophagy as a potential therapeutic approach for Ataxia Telangiectasia (AT)" 
https://www.associazione-at.it/vincitori-borse-di-studio-anat-2020/

---

July 2019: Two IBPM students are awarded two research grants in the Regione Lazio - "Torno subito" programme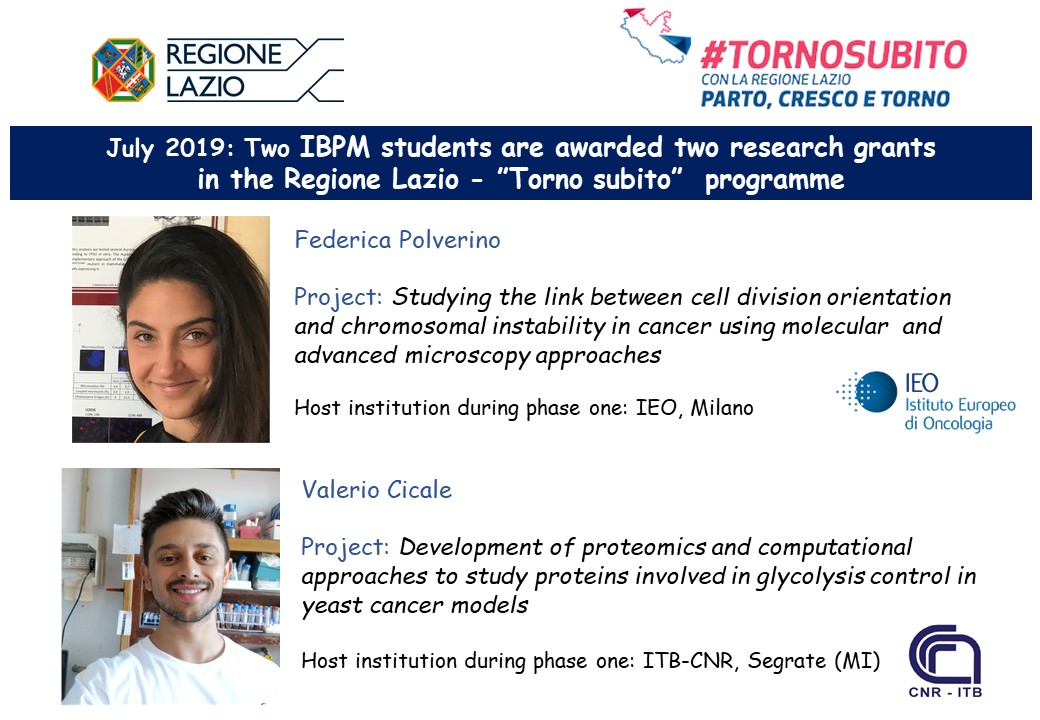 ---





December 14,  2018

Largo Ascianghi 5, ex-GIL Trastevere

Award ceremony to funded projects in the Call – Research groups: knowledge  and cooperation  for a novel model of development.  
RESEARCH LINE:  GREEN ECONOMY
"An innovative technology  optimizing the use of ferns to detoxify arsenic-contaminated soils"   MAURA CARDARELLI
RESEARCH LINE: HEALTH


"High-content imaging in validation of anti-mitotic drugs" FRANCESCA DEGRASSI
"DNA-GEL"  IBPM UNIT: PATRIZIA FILETICI  (Project coordinated by Sapienza University)
"Artificial genes as therapeutic tools for Duchenne muscular dystrophy" CLAUDIO PASSANANTI
The new call for research infrastructure will also be presented.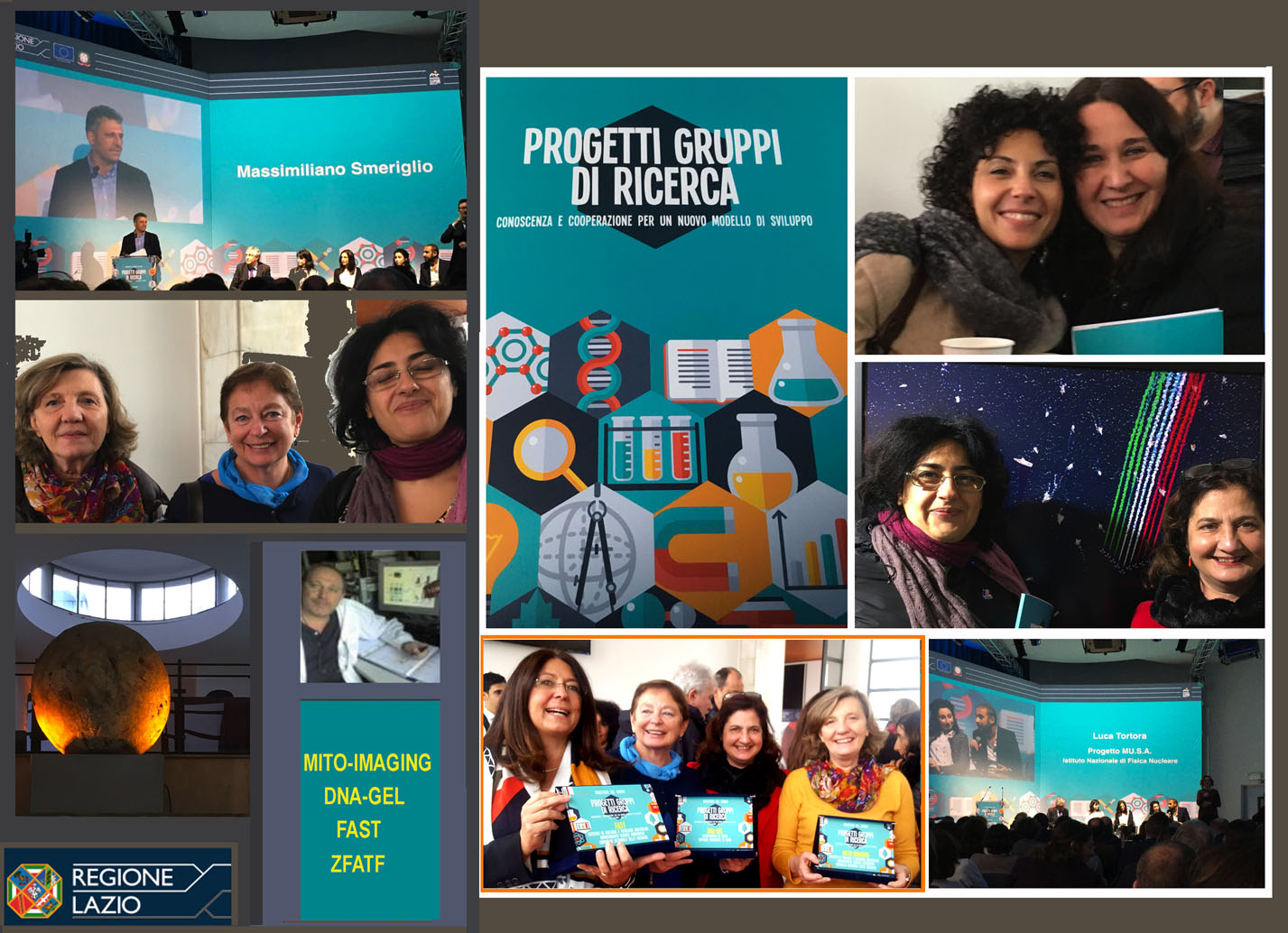 ---

24th International Conference on Neuroscience and Neurochemistry 
AWARD TO Francesca Sardina, IBPM-CNR 
for  her poster presentation:  
"The kinase HIPK2 regulates spastin protein levels:implications in hereditary spastic paraplegia"
July 23-24,2018  -  Birmingham UK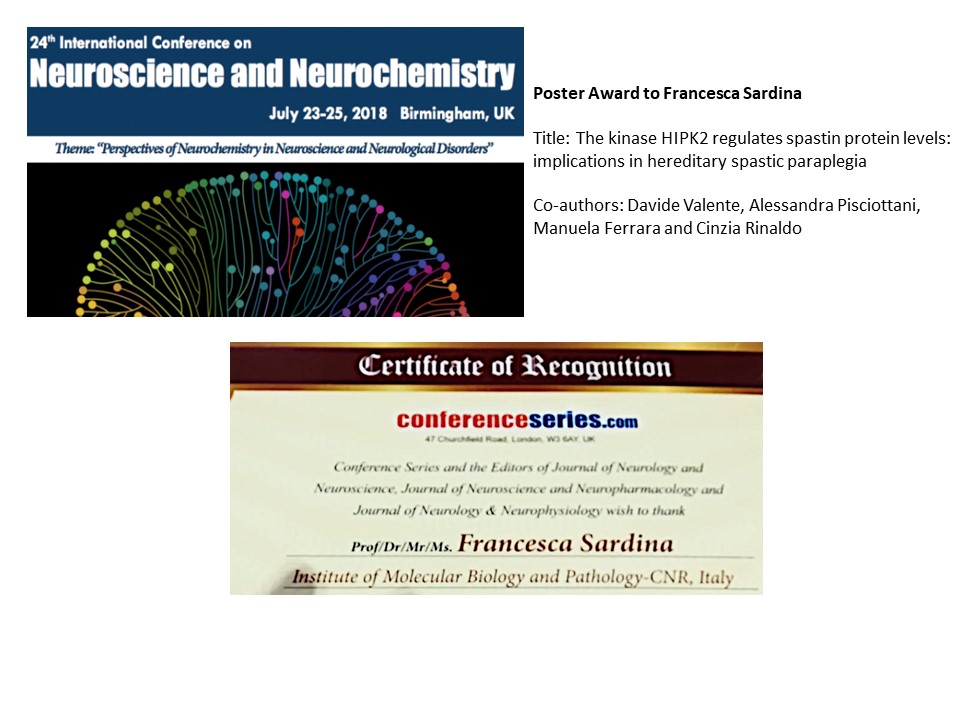 Documents: 
Poster award

---

Selected talk by Fiorella Scagnoli at the 9th BeMM Symposium: "A new insight into Myc action: control of RNA polymerase II methylation and transcription termination"
Documents: BeMM 2018 Meeting flyer
---

BEST POSTER AWARD TO FEDERICA POLVERINO IN THE JOINT PHD MEETING ABCD-SIBBM 2018