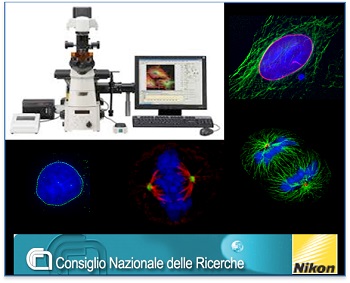 Lia Asteriti
,
Francesca Degrassi
, 
Giulia Guarguaglini
, 
Patrizia Lavia
Vincenzo Costanzo
Giulia Fianco, Federica Polverino

The IBPM imaging platform is a Nikon Microscopy Reference Center for Central-Southern Italy and a node of the Italian National imaging infrastructure within the MUR-PON project "IMPARA – Imaging from molecules to the preclinics"

http://www.ponricerca.gov.it/comunicazione/esempi-di-progetto/potenziamento-infrastrutture-di-ricerca/impara-imaging-dalle-molecole-alla-preclinica/

The platform hosts:
   - wide-field light microscopy equipment for high-resolution analyses and spinning disk confocal microscope of last generation, both equipped for live viderecording experiments,
   - up-right fluorescence microscope delivering crisp, clean and true-to-life images of fixed fluorescent cell samples,
   - two workstations with advanced software for image acquisition, deconvolution, processing as well as qualitative and quantitative data analysis.

Imaging capabilities include: time-lapse recording of live cells under viable conditions over several days; high-resolution visualization of subcellular structures and intracellular molecular interactions; reconstruction of cellular and subcellular structures at 3D level, obtaining precise quantitative information on the molecules or cells that are being imaged. Imaging methods are developed in collaboration with Nikon, e.g. for automated image acquisition and analysis.

The informational content of cellular imaging, ShareScience Workshop, Sapienza University, Rome, 2019


The development of innovative imaging methodologies and techniques, particularly in the field of automated image acquisition and analysis, are the object of dedicated collaborations with Nikon
https://www.microscope.healthcare.nikon.com/it_EU/
and CREST-Optics 
https://crestoptics.com/

More information is available on the dedicated website: https://www.imagingplatformibpmcnr.it/