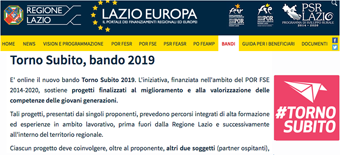 http://www.lazioeuropa.it/bandi/torno_subito_bando_2019-582/

The 2019 call "Torno Subito" is online. The initiative, funded in the framework of the ESF 2014-2020 POR, supports projects aimed at improving and enhancing the skills of the young generations.
The projects provide opportunities to integrate highly qualified training and working experiences; a first phase is planned outside the Lazio Region and the return phase within the region territory.
Each project must involve, in addition to the individual proponent, two subjects (host partners), who can be freely identified and involved by the same proponent.
---

Calls for open positions at IBPM and details on how to apply can be found in the italian page

> view this page in italian language